Every movement needs a hero or two. Michael Pollen certainly stands out as a champion of the healthy eating movement. We applaud his efforts and honor him for all he has done to bring back healthy eating habits to the American people.
This page is dedicated to Michael Pollan, who has warned us very eloquently of the dangers of our current food supply and has presented us with these few simple rules for buying food in any grocery store.
Rules such as "Eat the fresh food around the perimeter of a supermarket, rather than the processed food in the center aisles," remind us that large corporations have removed  the essential nutrition from packaged foods, substituting high fructose corn syrup that makes it taste good, but leaving very little or no nutrition.
A steady diet of these kinds of "fake foods," many with long chemical names that we don't understand, is responsible for the increasing rates of obesity, hyperactivity, diabetes, heart disease, and plenty of other unhealthy conditions unknown to our ancestors.  We're not even dealing with the pesticides applied to crops, here, but the empty calories in processed food.
If you want to feed your children healthy, clean food, use these few, simple rules as your guide.
Here's Michael Pollan's generalized rule:
"Eat food, not too much, mostly plants."
Now here is a sample of Pollan's "rules" from with his own comments after some of them.
#11 Avoid foods you see advertised on television.
#19 If it came from a plant, eat it; if it was made in a plant, don't.
#36 Don't eat breakfast cereals that change the color of the milk.
This should go without saying. Such cereals are highly processed and full of refined carbohydrates as well as chemical additives.
#39 Eat all the junk food you want as long as you cook it yourself.
There is nothing wrong with eating sweets, fried foods, pastries, even drinking soda every now and then, but food manufacturers have made eating these formerly expensive and hard-to-make treats so cheap and easy that we're eating them every day. The french fry did not become America's most popular vegetable until industry took over the jobs of washing, peeling, cutting, and frying the potatoes — and cleaning up the mess. If you made all the french fries you ate, you would eat them much less often, if only because they're so much work. The same holds true for fried chicken, chips, cakes, pies, and ice cream. Enjoy these treats as often as you're willing to prepare them — chances are good it won't be every day.
#58 Do all your eating at a table.
No, a desk is not a table. If we eat while we're working, or while watching TV or driving, we eat mindlessly — and as a result eat a lot more than we would if we were eating at a table, paying attention to what we're doing. This phenomenon can be tested (and put to good use):
Place a child in front of a television set and place a bowl of fresh vegetables in front of him or her. The child will eat everything in the bowl, often even vegetables that he or she doesn't ordinarily touch, without noticing what's going on.
Which suggests an exception to the rule: When eating somewhere other than at a table, stick to fruits and vegetables.
They are simple, aren't they? If you want to know the science behind them, you will have to read some of Michael Pollan's longer books, like the Omnivore's Dilemma : a Natural History of Four Meals (a truly interesting discussion of our food supply here in the USA) or In Defense of Food. These books are cheap, interesting, and informative!  Check them out
Here is a link to an article written by Michael Pollan on creating the book, Food Rules: An Eater's Manual.
Here is the official description (from Michael Pollan's web site) of the inexpensive little book, Food Rules, that is packed with the wisdom of our ancestors.
Food Rules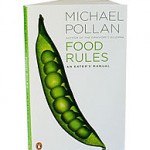 An Eater's Manual
Eating doesn't have to be so complicated. In this age of ever-more elaborate diets and conflicting health advice, Food Rules brings a welcome simplicity to our daily decisions about food.
This indispensable handbook lays out a set of straightforward, memorable rules for eating wisely, one per page accompanied by a concise explanation.
Whether at the supermarket or an all-you-can-eat buffet, this is the perfect guide for anyone who ever wondered, "What should I eat?"