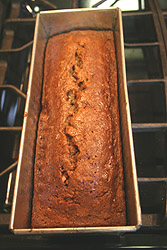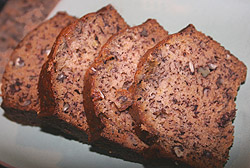 This is a great use of overripe bananas that kids will love to make and eat.
You will need:
½ cup canola oil
1 ¼ cup sugar
2 eggs
5 overripe bananas
2 cups all-purpose flour (whole wheat flour works fine)
1 teaspoon salt
2 teaspoons baking soda
2 tablespoons wheat germ (toasted wheat germ is fine)
1 cup chopped nuts (walnut, pecans, or almonds)
(Note: if there are nut allergies, omit them. Otherwise, they are great protein and healthy fat.)
Preheat oven to 350º and grease two 8 ½-inch loaf pans.
Cream the oil and sugar in the (large) bowl of an electric mixer or with a hand mixer. You will later add the dry ingredients to this bowl, so make sure it is big enough to fit both the wet and dry mixtures.
Add the eggs and bananas and blend until the bananas are thoroughly mashed.
In a separate bowl, sift the flour, salt, and baking soda and stir in the wheat germ and nuts. Blend well.
Add the dry ingredients to the banana mixture and blend until just mixed.
Pour the batter into the prepared pans, dividing it evenly.
Bake for 50 minutes, or until the top springs back when gently pressed. Or stick a toothpick into the very center. When it comes our mostly clean, it's done.
Makes 2 loaves
From the Best of Family Fun Cooking & Parties, edited by Deanna F. Cook and the Experts at FamilyFun Magazine, p. 63.  [This is a great cookbook for budding cooks. We enthusiastically recommend it.  Ours is covered with spots and stains–the sign of a truly useful cookbook.]