This banana bread tastes great the second day if not eaten when it comes out of the oven! It's a great breakfast for kids, given the bananas, nuts, eggs, wheat germ, and (especially if you use) whole wheat flour. We really encourage you to use nuts because of the protein content and healthy fats, though they can be optional.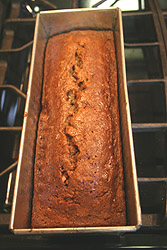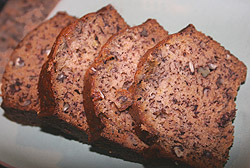 Makes 2 loaves.
Ingredients:
5 overripe Bananas
1 cup Sugar
2 Eggs
½ cup Vegetable Oil (we prefer Grapeseed oil, but others will do)
2 cups Flour
1 teaspoon Salt
2 tsp. Baking Soda
2 tablespoons toasted Wheat Germ
1 cup Walnuts, chopped (other chopped nuts will do)
Preheat the oven to 350° F.  Spray the bottom and sides of two 8½" loaf pans with cooking spray. Choose a mixing bowl that is at least medium size. You will be preparing the wet mixture in this one and adding the dry mixture to it i n a minute.
Put the sugar and the oil in the mixing bowl and cream with an electric mixer until the sugar and oil are mixed together well.
Crack the eggs into the sugar mixture.
Peel the bananas and mash them with a fork on a plate. Then add them to the sugar mixture.  Beat on low until the batter is pretty smooth (bananas should be well mashed; if there are big lumps, beat a bit longer).
In a separate bowl, sift the flour, salt, and baking soda together. Stir in the wheat germ and chopped nuts and mix together. Add the dry ingredients to the banana/sugar mixture and blend until just mixed.  Get all the flour mixed in by scraping down the sides down with a spatula.
Pour the batter into the two loaf pans, dividing it equally.
Bake for 50 minutes at 350 ° F.
After 50 minutes, bring one of the breads out of the oven quickly and close the oven door to maintain the heat. Stick a toothpick into the center of the bread.  If it comes out clean, it's done. The top should spring back when gently pressed.
If the toothpick comes out with a sticky dough on it, put the bread back into the oven right away and cook for another 10 minutes, until the toothpick comes out clean.
When done, take the bread out of the pan and place it on a cooking will not get soggy.
Enjoy warm with butter or jam!